23 April 2020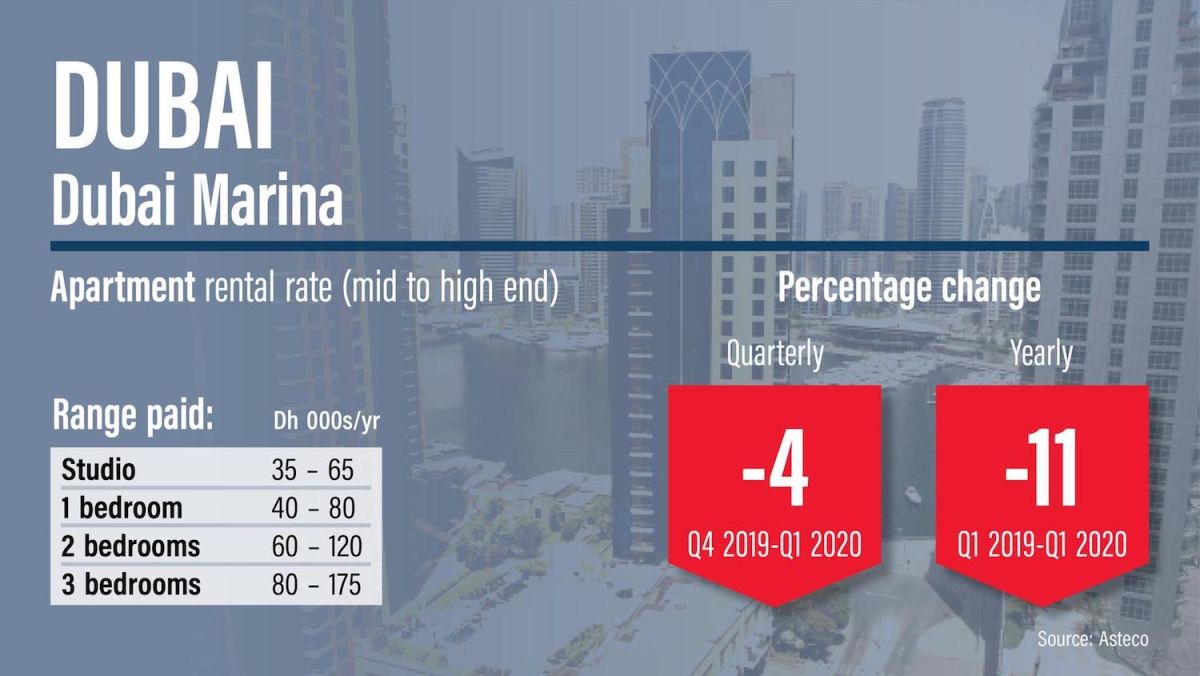 Take a look in the slideshow below at how rents have fared in different areas of the city
What was the general market movement in Dubai in Q1?
Rents continued to fall in a broadly similar fashion to the declines experienced in 2019. However, there were signs of stability in a number of districts where rental prices remained the same as the previous quarter.
While the data from the first three months of this year does run into the onset of the coronavirus pandemic in the UAE, the restriction measures across Dubai taken in response to Covid-19 were yet to have much of an impact on the property market – that is expected to be seen in the second quarter and beyond, according to experts. Therefore, sentiment and trends were more in line with the pre-coronavirus period.
"The Covid-19 pandemic has created an environment of acute uncertainty," said Asteco executive chairman and founder Elaine Jones. "The implications for world markets and the real estate sector have yet to be quantified."
She added: "To date, Asteco has not recorded a discernible change in demand, or values. However, it is likely that activity will diminish, at least over the short-to-medium term.
"Bayut chief executive Haider Ali Khan echoed the need to wait and see what happens in the coming months.
"Although the first quarter shows some healthy numbers, we should be prepared to see some fluctuations in the coming months as the UAE continues to lead the region's fight against Covid-19," he said.
"While the government has been proactive by announcing stimulus packages to support the industry, we still need to wait and observe the impact on consumer interest in the following quarter."
What else did the property companies have to say?
Chestertons described the residential sector's first quarter as "resilient", as apartment rents fell on average 1.5 per cent and villas 1.3 per cent, while also highlighting a "greater stability" during the period.
It noted that once government measures were introduced in March to tackle the spread of Covid-19, the impact on residential property was limited, with the hospitality and retail sectors more acutely affected.
Asteco found annual rental declines to generally be in the double digits, and said it anticipates the trend to intensify "in part due to the volume of supply expected for handover in the short-to-medium term, but mainly as a result of uncertainties surrounding the impact of the current pandemic".
It added in its "Dubai Real Estate Report Q1 2020" that it expects tenants to adopt a wait-and-see approach before potentially relocating once restrictions on movement have been lifted.
Improvements in rental rates were largely confined to the villa market where areas such as the Meadows and Jumeirah Park experienced no change during the three-month period.
What about supply of new units?
That stood at 4,458 across freehold areas, according to Chestertons, compared to 6,328 in Q1 2019, and 12,369 in Q1 2018.
"A reduction in future residential supply is a crucial step towards more balanced supply and demand dynamics and will go some way to support long-term investor confidence," it wrote in its Observer Dubai Residential Report for Q1 2020.
Asteco offered a higher number of completed units in the first quarter – 5,750 apartments and 2,150 units.
It said the expected delivery of 34,000 units by the end of the year is likely to be revised given the circumstances around the pandemic.

What has been done to protect tenants during the Covid-19 restrictions?
In both Dubai and Abu Dhabi, tenants struggling to pay their rent are exempt from eviction after the government issued new directives to protect them.
Sheikh Maktoum bin Mohammed bin Rashid Al Maktoum, Deputy Ruler of Dubai and Chairman of the Dubai Judicial Council, temporarily suspended all eviction judgements related to residential and commercial facilities in the emirate during March and April.
The directive also stopped all "imprisonment judgements" linked to rental disputes. However, the ruling does not apply to abandoned homes.
Property agents confirmed to The National that some landlords are already being flexible with tenants who are struggling financially.
The Dubai economy overall has received government incentives worth Dh1.5bn for three months, and local banks have been directed to provide support packages to struggling clients.
How did property sales fare during Q1?
There was positive movement, with transactions in Dubai rising an annual 10 per cent amid government policies to support the economy, according to Property Finder.
Total property sale transactions during the period ending March 31 reached 10,243, Property Finder said.
It added that the month of March had more than 1,209 mortgage registrations, which is the highest number since October 2019 and 24.8 per cent more than March 2019.
As part of the economic stimulus provided by the Central Bank amid coronavirus, loan-to-value ratios applicable on mortgage loans for first-time buyers increased by 5 percentage points.
This means the upfront cash deposit required to buy a property has decreased to 20 per cent from 25 per cent for first time expatriate buyers, and to 15 per cent, from 20 per cent for Emiratis.
As for prices, they were down 2 per cent on average for villas and apartments quarter-on-quarter, Asteco reported, while Chestertons witnessed a 1.8 per cent fall for apartments and 0.8 per cent for villas.
Can I move house during the restriction measures?
Yes, but you will need a movement permit, which can be obtained on the Dubai Police website.
Choose the "personal" option, then click "emergency" from the drop-down menu and explain in the description box that your tenancy agreement is coming to an end. Permits are processed quickly in most cases.
For landlords, the tenancy contract can be uploaded on the official Ejari portal or the app.
Original article posted in The National